Grow your career
with Evolve
Every staff member excelling so that every child fulfils their potential….
This is our vision at Evolve; it's something that we are utterly committed to, because we know that outstanding early learning centres and great outcomes for tamariki and their whānau don't happen by accident – these are achieved by the dedicated and talented people who work across the Evolve team.
At Evolve Education, we nurture our people to be the best, supporting every staff member to achieve, grow and excel so that every child is supported to fulfil their potential. With nearly 100 high quality early learning centres nationwide, and a team of more than 1500 dedicated and passionate people, we offer career opportunities that support our people to make extraordinary differences in the lives of New Zealand's youngest learners and their families – and this our commitment to both our centres and the wider early learning sector.
Our much loved brands - Active Explorers, Learning Adventures, Little Wonders, Pascals, Lollipops, Little Earth Montessori and Little Lights – all offer exciting opportunities and career pathways for dedicated professionals who share our vision. Join Evolve, and you'll be joining a team that's shaping the future, delivering the highest quality learning for the early years, and contributing to the development and success of the communities we serve.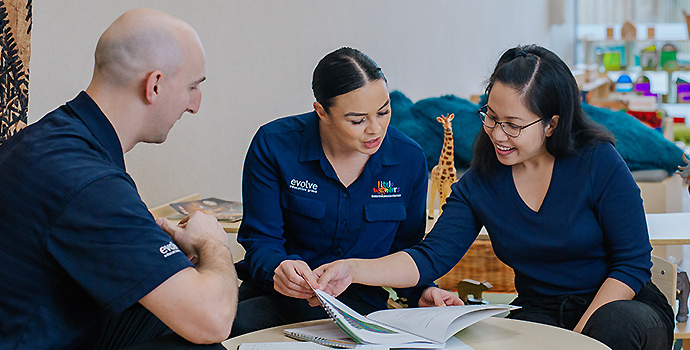 Evolve Benefits
Be part of a friendly, inclusive team where every staff member is valued and supported to excel.

Strong commitment to professional development and growth for all, through mentoring, support networks, regular appraisals, workshops and more.

Benefits from clear career pathways and outstanding opportunities for advancement within New Zealand's ECE sector.

Work with inspiring leaders and teams who share your passion and enthusiasm for early childhood education.

With more than 100 centres nationwide, opportunities are plentiful all over New Zealand.

Proudly opted into full pay parity and providing flexibility to work within different philosophies.

Subsidised childcare for your tamariki.
Centre Roles and Support Office Roles
Career Paths
With 100+ centres nationwide and a dynamic team of support office staff, Evolve offers an exciting array of career opportunities. Whether you're a passionate teacher or a member of our dedicated support team, you will be playing a leading role in creating successful outcomes for New Zealand's tamariki.
We are committed to making a positive difference to the lives of our tamariki, whānau and the communities we operate in, and one of the ways we achieve that is by investing in our staff. Join Evolve and you'll receive ongoing professional development and mentoring, and you will be supported and encouraged to excel.
Be the best you can be. Join us at Evolve Education.
Non-certificated Teacher
You don't have a certification but your passion is working with children! You have lots of energy, positivity & love sharing your talents.
Teacher in Training
You've committed to your passion of ECE, and now you're studying to become qualified! You want to share your creativity and energy, while absorbing knowledge, asking questions, and learning from a supportive team. 
Certificated ECE Teacher
You're brilliant at inspiring our children's mind and guiding them as they grow.  You hold an ECE certification and are either fully registered, or on the path to obtaining your registration.
Team Leader
You're an experienced ECE Teacher that leads 4-5 teachers/educators; you love guiding the learning of others, being a natural role model,
and building strong relationships.
Centre Manager
You ensure that each day runs smoothly, set the vision and tone for the centre, & you support your team while bringing everyone together with your leadership. Your vision and creativity are always booming! 
Non-certificated Reliever
You're reliable, passionate, and love having a flexible schedule. You're an important part of helping the centre function smoothly by lending a hand when we need support. 
Certificated Reliever
You're a certificated ECE Educator looking for a bit of flexibility & life balance or wanting to try different environments before you move in to your next home away from home.
Van Driver
You are incredibly reliable and uphold the safety of our children at all times. You transport the children to and from the centre each day, while always smiling and carrying your positivity through to them as they start or end their day. 
Centre Cook
An essential part of the team, you create and provide nourishment to our children. You are committed to food safety, & ensure our little ones have all the nutrients they need to keep on growing & learning. 
Centre Admin
You keep the centre organized and on their toes! You're a numbers person, super adaptable, and love greeting people as they first enter our centre.
Administration
Want to be the office go-to person? We are looking for team players who are adaptable, organised, customer focused and good at prioritising. Our admin superstars keep the Support Office team on their toes and ensure everything runs smoothly. No day is ever the same – you'll do everything from keeping the office stocked with stationery to dealing with suppliers and organising events.
Finance
Those among us with a penchant for numbers will thrive in the finance department, with a range of roles and seniority levels Not only do you have a passion for finance and numbers, you are also focused, collaborative and organised, with first-class prioritising skills.
IT
It goes without saying you are tech savvy. You're also customer focused and organised with stellar prioritising skills. There are an exciting and diverse range of IT positions available.
People and Talent
You are first and foremost a people person – you're an influencer, you're collaborative and you are passionate about customer service. Add to that a healthy dose of innovative thinking and creativity and you're walking  the right path. There are a wide range of roles to choose from within this profession.
Centre Operations
You are a born leader with well-honed influencing skills, and you've set your sights on a Centre Manager, Area Manager or other positions. As well as being business savvy, you're collaborative and have a high degree of customer focus….mix this with a love of people and a passion for lifting professional practice in NZ and this could be the team for you!
Marketing
Your unrivalled enthusiasm for providing flawless customer service is what gets you out of bed every morning. You're innovative and creative, thrive in a collaborative environment and are a natural influencer. You are also social media savvy. Tick all those boxes and you'll prosper in this profession.
Quality Assurance
When it comes to the New Zealand  ECE curriculum and best practice in professional learning knowledge, you're a total pro. You're also supportive, a powerful influencer, and a great relationship builder.
Property
You possess influencing skills and have a high degree of customer focus. You are business savvy, and you're collaborative. Working in property for Evolve, you play a huge part in keeping our children and staff safe in their physical environment.
We understand that ongoing learning and career development makes a huge impact on both positive outcomes for tamariki in our centres, as well as equipping our teams with the best possible toolkits to be successful. Evolve places great emphasis on both personal and professional growth and development, and we are strongly committed to building strong, cohesive, collaborative teams. For us there is nothing better than seeing our people grow in confidence, unlock their potential and achieve their goals!
To ensure every member of our team has the tools to thrive, we offer a diverse range of development and mentoring initiatives, all designed to build skills, knowledge and expertise. Whether you are passionate about developing your teaching career or want to carve your path in an operational or support office role, our internal training opportunities are an invaluable resource.
Here are a few of our professional development programmes:
Centre Managers
Team Leaders
Teachers
Teacher in Training
Graduates
Support Office Team
'Just a reliever' - sorry, that simply isn't the way we roll at Evolve...
Our relievers play a key role across our organisation - and increasingly so. They are important members of our centre teams, bringing their skills, knowledge and expertise to our children and centres whenever and wherever they are needed...in short, we love them!
A key focus for us is growing and strengthening our regional reliever teams, and part if this is to ensure our relievers feel as much a part of our organisation and our centres, as every other staff member
Relieving with Evolve Education provides teachers with a number of benefits, that will support you to work the way you would like to, whilst still providing you with the chance to work across different centres, that are all unique, and serving their children and families with the highest quality early learning and care:
Flexibility to decide when you work
Significant opportunities to grow your knowledge and skills across different learning environments
And if you are a student teacher, you get the chance to work alongside and learn from our experienced Registered Teachers - which will help you in so many ways
The opportunity to see what we are all about...
So, you would be anything but 'just a reliever'- you would be a valued and respected member of our team, playing a vital role in the learning and care of our tamariki, and supporting their whānau.
Think relieving might be a good option for you?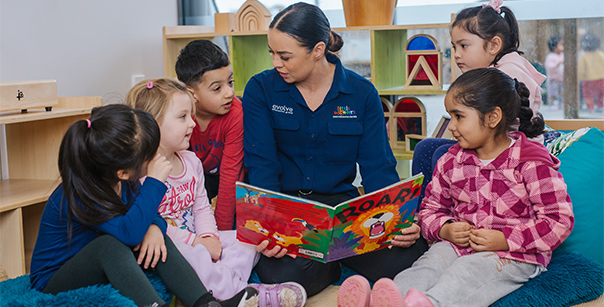 I would love to work here, tell me more!
Are you interested in a career at Evolve Education Group?
Please click the link below and follow us on LinkedIn and/or Facebook.
Our Recruitment Process
What you can expect from us
At Evolve Education, it's important to us that you have the best experience when going through a recruitment process, whether you're successful in gaining a role or not.  We will be with you every step of the way, keeping you up to date on your application.
1
Applications received & reviewed. Unsuccessful applicants will be communicated with via email
2
Longlisted applicants will be contacted to undertake a phone screen (approximately 15-20 min)
3
Shortlisted applicants will be invited to attend a behavioural based interview. Unsuccessful candidates will be notified via email
4
Reference checks will be completed for the preferred applicant. Unsuccessful applicants will be notified by phone
5
Child - Safety Pre-Employment checks will be undertaken: Police Vetting for Un Certified/Non-Teaching & Support staff
6
Verbal offer will be made & employment contract created and sent to the successful applicant – Welcome to Evolve!
Vacancies
Evolve's recruitment team are strongly committed to candidate care – apply for a role with us and you will experience a smooth and positive recruitment experience, whether or not you are successful in securing the position. We love that you want to be a part of our organisation, and we will communicate with you in a timely and respectful manner every step of the recruitment process.
Overseas Teachers
Thinking of a move to New Zealand?
With over 100 centres across New Zealand, Evolve Education offers a multitude of opportunities across our beautiful country for qualified ECE educators wanting to make the move. 
Making such a lifestyle change can be very daunting, so we've put together some information for you to let you know what you need to practice as a qualified, certified ECE educator in New Zealand.
For us to consider you for our qualified/certified educator vacancies, you will need:
To obtain a valid  New Zealand work visa or residency.  Please note:  If you require an offer in order to apply for your NZ Work Visa, we will still be able to engage with you in a virtual recruitment process as long as you have the other two requirements below.
Your qualifications assessed by New Zealand Qualifications Authority (NZQA) – your qualifications must be assessed to be at a bachelor's degree, Level 7 in either Early Childhood or Primary School Education
To apply for your NZ practicing certification through the Teaching Council of Aotearoa New Zealand
For more information on how to become qualified/certified, click on the below: